Results USA 2007
---
August 2007
Saturday 25th Angell Park Speedway, Sun Prairie, Wisconsin
Scott's report:
Qualifying laps were held on a rough track and I made a couple of errors, so had to run in the C main. Finished 2nd in C main which was a good result, but still had to start at the back of the grid for the heat race and couldn't gain any passes. Transferred to B main but off the back again, passed a few cars, finishing 13th. Unfortunately not good enough for a transfer to the A main.
Qualifying Race Results
Name
Car
Place
Time
Kevin Swindell
79
1
14.548
Ricky Stenhouse Jr.
21
2
14.58
Brad Sweet
67
3
14.649
Jerry Coons Jr.
11
4
14.696
Matt Sherrill
135
5
14.715
Chuck Gurney Jr.
20
6
14.727
Chris Windom
17
7
14.742
Danny Stratton
4
8
14.748
Dave Darland
9
9
14.811
Brandon Wagner
92
10
14.827
Brad Loyet
05
11
14.878
Mike Hess
44
12
14.878
Bubba Altig
33
13
14.889
Cole Whitt
99
14
14.921
Davey Ray
91
15
14.954
Gary Taylor
999
16
15.001
Chad DeSelle
81
17
15.004
Michael Pickens
2X
18
15.012
Donnie Ray Crawford
299
19
15.048
Nick Lundgreen
41
20
15.07
Doug Schenck
19X
21
15.078
Darren Hagen
32
22
15.104
Brandon Waelti
3
23
15.105
Scott Hatton
15
24
15.11
Dan Mecum
8M
25
15.111
Brian Ramstack
02
26
15.139
Brad Kuhn
43
27
15.144
AJ Fike
69
28
15.224
Tim Noble
9X
29
15.281
Tom Hessert
5
30
15.3
Rob Keelan
17X
31
15.322
Jim Fuerst
28
32
15.333
Chase Barber
90
33
25.357
Scott Buckley
25NZ
34
15.361
Bryce Townsend
3NZ
35
15.375
Brad Mosen
77
36
15.383
Ryan Durst
191
37
15.386
Bobbie East
O4
38
15.395
Bryan Walters
5W
39
15.456
Buddy Luebke
43X
40
14.456
Robbie Ray
3R
41
14.482
Joe Wipperfurth
4X
42
15.504
Bob Shreffler
21S
43
15.534
Kurt Mayhew
21K
44
15.563
Aaron Fiscus
7
45
15.567
Jason Dull
56
46
15.733
Jon LeJeune
34
47
16.028
Kellen Love
71X
48
16.089
C-Main Race Results
Name
Place
Brad Mosen
1
Scott Buckley
2
Bobbie East
3
Joe Wipperfurth
4
Chase Barber
5
Ryan Durst
6
Kurt Mayhew
7
Aaron Fiscus
8
Buddy Luebke
9
Jason Dull
10
Bob Shreffler
11
Robbie Ray
12
Bryce Townsend
13
Bryan Walters
14
B-Main Race Results
Name
Place
Kevin Swindell
1
Chris Windom
2
Danny Stratton
3
Bubba Altig
4
Chuck Gurney Jr.
5
Brad Loyet
6
Scott Hatton
7
Brad Mosen
8
Brandon Wagner
9
Cole Whitt
10
Doug Schenck
11
Joe Wipperfurth
12
Scott Buckley
13
Bobbie East
14
Chase Barber
15
Kurt Mayhew
16
Jim Fuerst
17
Aaron Fiscus
18
Michael Pickens
19
Gary Taylor
20
Rob Keelan
21
Matt Sherrill
22
A-Main Race Results
Name
Place
Jerry Coons Jr.
1
Dave Darland
2
Ricky Stenhouse Jr.
3
Danny Stratton
4
Chuck Gurney Jr.
5
Darren Hagen
6
Mike Hess
7
Brandon Waelti
8
Davey Ray
9
Bubba Altig
10
Chad DeSelle
11
Brad Kuhn
12
Kevin Swindell
13
Scott Hatton
14
Nick Lundgreen
15
Tom Hessert
16
Chris Windom
17
AJ Fike
18
Brian Ramstack
19
Brad Sweet
20
Brad Loyet
21
Tim Noble
22
Cole Whitt
23
Dan Mecum
24
---
Friday 24th Plymouth Dirt Track, Plymouth, Wisconsin
Meeting Rained Out
---
Sunday 19th Angell Park Speedway, Sun Prairie, Wisconsin
Meeting Rained Out
---
Friday 17th Macon Speedway, Macon, Illinois
Scott's report:
Very slick two lane track; one lane really high against the wall and the other right on the pole line. Track size is smaller than NZ's Kihi Kihi but highly banked. I drew pill 88 so was on the last grid for the heat race. Only managed to pass one car to finished 8th. In the B Main I was also on the last grid and finished 9th so didn't transfer to the A main. Shaun drove well in his heat but still had to race the B main and didn't transfer to the A either. Bryce's heat was a crash fest and he finished with 2 other cars so they all transferred to the A main. Unfortunately he spun out on the first lap and had to restart from the rear then late in the race was involved in another crash that put him out.
---
Sunday 12th Kokomo Speedway, Kokomo, Indiana
Scott's report:
Missed the marble draw so started off the back of heat 2 finishing at the back once again. Started off the back of the 2nd B main with only the top 3 finishers transferring to the rear of the A main feature. Passed 6 cars to finish 4th, missing the transfer to the feature by less than a car length, beaten across the line by none other than Dave Darland, driving the Steve Lewis #9 Toyota. Bugger! It was frustrating that you get points for passing in the heat races but not in the B main.
To end the Indiana midget week without a feature start after such a promising start is very disappointing. Four shows in a row with 50 top level cars to race against has been one hell of a learning curve. Roll on next year when there will be five shows in a row!
---
Saturday 11th Lawrenceburg Speedway, Lawrenceburg, Indiana
Scott's report:
Collected Karen from Indy airport and travelled to Lawrenceburg. Got a bad marble draw and with a very slick track, raced to last place, putting me off the back of the B main. With nothing to lose I tried a setup that didn't pay off and finished at the back of a by now very slick track. Many of the other teams were threatening not to race due to poor track preparation. Not a good night for any of the Kiwi's.
---
Friday 10th Gas City I-69 Speedway, Gas City, Indiana
Scott's report:
Arrived at Gas City after the second mega-trip to Wisconsin (see below) at 7:30pm, too late for driver registration. In between watching the other Kiwi's race, Bill, Dick Webb, Kevin Stephens and I refitted the motor. Got a push start off the back of the wingless sprint car feature, and was happy the car ran. Helped to pack up the transporter and headed back to Indianapolis for some much needed sleep! Bummer no racing action tonight.
---
Thursday 9th Kamp Motor Speedway, Boswell, Indiana
Scott's report:
I drew grid 2 and Bryce drew grid 1 for the heat race. Bryce lead the first lap then I passed for the lead on turn 1 of the second lap. I lead the way through to lap 6 of 8 laps when the motor broke, dropping the head off valve 8. Normally I would pull off the track straight away but because I was leading a USAC race, I carried on and completely destroyed cylinder 4. Bad call! Spent the rest of the meeting removing the engine and loading it into the rental car. After watching the midget feature, Dad and I headed back up to the engine builder in Wisconsin. We drove until 3am before having to check into a hotel, then another hour on Friday morning; finally arriving at Speed Engineering at 7:30am. There was too much damage to the motor to repair it straight away so we negotiated the use of a replacement engine and set about bolting our engine plate and other components to it, reloading into the rental car and heading out at 12:30pm for the 6 hour drive back to Gas City Speedway.
---
Sunday 5th Angell Park Speedway, Sun Prairie, Wisconsin
1/3 mile dirt track, 30 lap feature
Heat 1 Winner Matt Smith
Heat 2 Winner Scott Buckley
Heat 3 Winner Chad DeSelle
Heat 4 Winner Mike Hess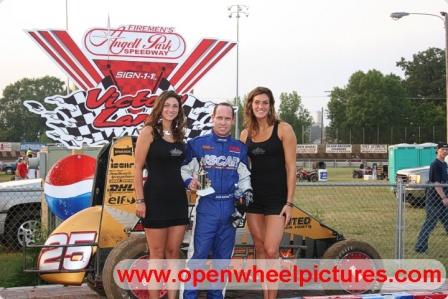 Legend Heat 1 Winner Aaron Fiscus
Legend Heat 2 Winner Brad Weber
Legend Heat 3 Winner Eric Bart.
Danny Stratton Wins the B-Main
Legend Feature Winner Brad Weber
Feature Lineup
| | |
| --- | --- |
| Bryce Townsend | Aaron Fiscus |
| Jim Fuerst | Matt Smith |
| Mike Hess | Chad DeSelle |
| Scott Buckley | Brandon Waelti |
| Bob Schreffler | Brad Kuhn |
| Bubba Altig | Chase Barber |
| Tim Noble | Robbie Ray |
| Dan Mecum | Shawn Insley |
| Danny Stratton | AJ Fike |
| Joe Wipperfurth | Davey Ray |
| Nick Lundgreen | Doug Schenck |
| | |
Red Flag on the start, Shawn Insley flips in turn 2.
We'll see a complete restart
------
Red Flag on lap 2 for a flipped Bubba Altig
------
Caution on lap 10 for a stopped Bryce Townsend
Aaron Fiscus leads Matt Smith and Mike Hess
------
Red Flag on lap 11
Jim Fuerst flips and Bob Shreffler tangles with him
Aaron Fiscus leads Matt Smith and Mike Hess
------
Brandon Waelti WINS!!
Aaron Fiscus second.
Brad Kuhn Third
Chad DeSelle Forth
Scott Buckley Fifth!
---
Saturday 4th Wilmot Speedway, Wilmot, Wisconsin
1/3 mile dirt track, 30 lap feature
Meeting Rained Out
---
Saturday 28th Belleville High Banks, Belleville, Kansas
1/2 mile dirt track, 25 lap feature
Scott's report:
We changed quite a few things on the car but to all for no gain, damn thing still would not do the only thing you need here... operate at full throttle! During the warm up (3 laps) max revs were 8300. Then into heat 2, grid 6 still the car did not work properly and something gave up on the last lap. Max revs were 8500 still 500 short of the red line. On a normal night at the Springs the car comes back around 8800 if its not pegged to the pre-set 9000 rpm rev limit. Lets hope the problem is only minor.
---
Friday 27th Belleville High Banks, Belleville, Kansas
1/2 mile dirt track, 25 lap feature
Scott's report:
Tonights racing was unbeliveably fast! We got 3 laps of green for warm up, then had to do 2 qualifing laps. My car did not run perfect, but was good enough to get 36th fastest, making me the last car to qualify for the heat racing. The non qualifers have to run off the back of the B main (about 10 cars).
Bryce got grid 1 in the second heat (qualified 2 in front of me) and finished 7th
(Top 4 transfered to A main rest to B main). I got grid 1 in heat 4 and finished 7th.
In the B main Bryce started 16th and I started 18th.
Bryce blew an oil filter o ring and pulled out of the race. My car still not running quite right, but I did finish the race 15th. Only the top 6 made the A main so we all watched a very fast race with speeds around 130 mph. These midgets sure go fast!
---
Wednesday 25th Junction Motor Speedway, McCool Junction, Nebraska
3/8 mile dirt track, 30 lap feature
Did not race - car held by US Customs
---
Tuesday 24th Junction Motor Speedway, McCool Junction, Nebraska
3/8 mile dirt track, 30 lap feature
Did not race - car held by US Customs
---
Sunday 22nd Dodge City Raceway, Dodge City, Kansas
3/8 mile dirt track, 30 lap feature
Did not race - car held by US Customs
---
Saturday 21st Dodge City Raceway, Dodge City, Kansas
3/8 mile dirt track, 30 lap feature
Did not race - car held by US Customs
---
---